Click this link to view our new website at https://buchananfirstumc.weebly.com/.
Welcome to a place where God is worshiped, and all people are invited to abundant life in Jesus Christ! Jesus taught us to love, and we have made it our mission to share His faith, grace and teaching to all people. It shows in our commitment to our community, in our fellowship and in our worship.
We are more interested in our relationship with God than with religion. We are imperfect people, saved only by grace. What we wear, or what you wear, is not important. Loving God, loving one another, and loving beyond our church is our mission. Come let us share in the grace of God and the joy of the Lord together.
We want to be of service to you and our community.
If you need assistance, please contact Pastor William Walters at 269-695-3282.
Peace and blessings to you all!
All seekers are welcome – and if you're not there yet, you are welcome too!
Worship service is at 9:30 am on Sunday morning, but I would love to talk to you any time.
Call. Visit. Let's talk!
Finding Us
Our address is: 132 S. Oak St., Buchanan, MI 49107.
Our phone # is: (269) 695-3282.
For more individual directions click the map.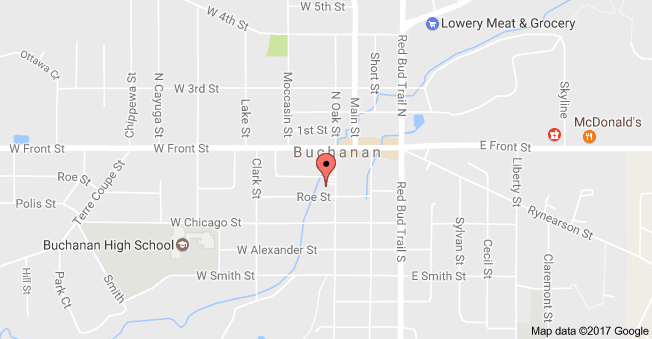 A magnetic and energetic church, First United Methodist is located in Buchanan, Michigan. Our core values are Christ, Prayer, Family, the Bible, and Mission.
We offer a number of programs including several small groups, Sunday School for preschool-4th grade, and worship that combines all kinds of styles.